Author: Najia Maqsood

As technology connects the international markets to create more opportunities for businesses and new economies of the future, tech platforms are likely to play a key role to bridge the talent gap for global and local businesses. Thus, bringing into spotlight the options for remote working, telecommuting, freelancing and hence a new era of progress for skilled independent professionals.
However, increased work flexibility and freedom of choice brings forth new questions about work ethic and assuring the quality of products & services delivered by remote and freelance workers which essentially dictates the customer experience(CX) and hence determines the CX ratings, NPS and adoption levels of tech-driven platforms to facilitate modern-day work.
As we explore to build new economic and business models to harness the potentials of the 4th Industrial Revolution, we have to address cornerstone questions crucial for delivering world-class customer experience.
What are the core values and attributes for delivering a second to none client experience? We are going to discuss some of these in the blog today, … and we suggest you take notes!
1. "Trust" becomes the new currency and economic equity!
The Challenge:
It is a difficult job in the first place to convince employers to disregard the tried & tested methods of sourcing talent and skilled professionals to support their day to day workplace needs. No matter how big or small the organization is, at the end of the day it is all about the bottom line and delivering business results.
Below statistic depicts the global usage of freelancer talent pools or freelancer management systems in 2017. During the survey, 20 percent of the respondents stated that they are not likely to use freelancer talent pools or freelancer management systems within the next two years.
Although the freelance economy has made great strides during the past some years, employer trust remains key factor in adoption of new freelance management platforms.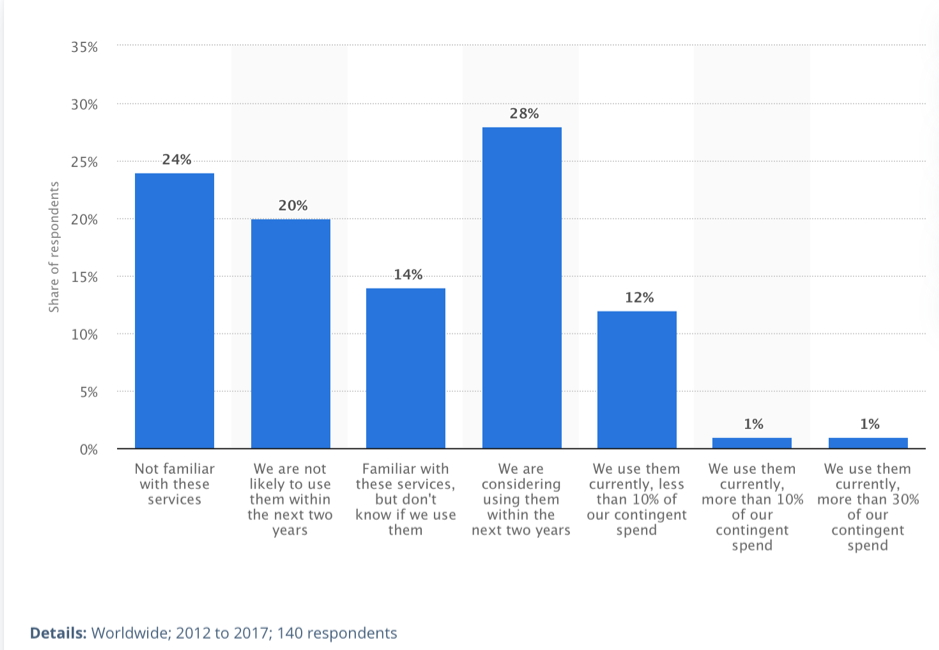 Our Advice:
The advice we always share with freelance and skilled independent professionals to provide a top-notch customer experience is to develop Trust, build a rapport with the employer and clientele by following through commitments, set clear SLAs for work delivery and benchmark pricing according to local and international standards not to negatively disrupt the market.
In case you are sure that you may be delayed to finish a certain client deliverable, inform them and negotiate a new deadline, it's that simple! As per our experience, one bad customer experience dictates employers not to source a remote worker again. Hence the statement that remote workers have to work twice as harder to first create trust and then to keep their professional image and reputation intact is true.
mesh Tip: "mesh" provides a reliable platform equipped with tools to help and support skilled independent professionals to manage project delivery. Use the "mesh chat" feature to regularly communicate SLAs, deliverables and clarify requirements with your clients.
In case you are going to be away from work, mesh has an out of office/ vacation mode feature that you can switch on to let your clients know when you shall be available to work on their projects again.
"Quality" is an all-time favorite trademark!
The Challenge:
How do we ensure the quality of work delivered by remote workers? and it is not just about getting the 5-star rating from an employer; it is also about what customers of a freelance professional and platform are saying about them, would they recommend it to friends and family? or their colleagues at work and perhaps to other partner companies/ businesses? word of mouth matters! especially in this era when everyone is online and uses social media to express their delight and their frustration. Customer feedback doesn't just come in feedback forms or logged in CRMs… it is more of a public commodity! and guess what customer sentiments determine which coarse the business takes and where the money flow.
Our Advice:
Since remote or freelance workers do not get the usual face time with their employers, they have to be meticulous in their project management and delivery skills.
Communication is key! assume less, discuss more of your client's requirements in the most visual, the most descriptive manner. Ask smart questions to clarify any doubts. Once you get the requirements right, working on a deliverable becomes an easy task.
mesh Tip: mesh provides employers with features to "Review" a deliverable and also to ask for "Revisions" of the delivered work. The mesh chat feature allows you to upload and exchange various types of file formats including PDF, .doc, pictures and videos, etc. Both freelancers and employers should use these features to improve collaboration on project works.
An employer can also rate the quality of the work delivered by a freelancer in form of star rating and via writing reviews or testimonials on mesh platform. Voice of the customer matters!
"Sustainability" of new economic models for work.
The Challenge:
How do we guarantee transparency of financial transactions in the gig-economy? are due diligence and risk mitigation things of the past?
Our Advice:
Paying and getting paid has never been easy with the advent of online transaction systems. although there are still risks and occasional conflicts between working parties especially when they don't see eye to eye on promises and deliverables.
In such cases, one of the carved in the stone pieces of advice we always share is to keep all communications and deliverable file exchange on the platform, as evidence. Always read and agree on the terms & conditions before starting to work on a new project. Never bypass the platform to exchange any piece of work or payments.
mesh Tip: "mesh" provide a secure and reliable platform minimizing the financial and legal risks associated with freelancing by channeling all financial transactions through an integrated secure payment gateway, that facilitates payments via credit/ debit cards, PayPal and bank transfers.
mesh has a dual-secure model where an employer has to make an upfront payment to book services of freelance or independent professional(Meshers). On the other hand, the payment is held in mesh platform's wallet during the coarse of project work and is only released to the freelancer once they have delivered and completed the work in a satisfactory manner.
We hope the above guidelines prove to be helpful for you and the ones who aim to champion the economies of the future. We at mesh believe that it is possible to work on your terms and still deliver a top of the class client experience.
We also encourage you to stay connected and read more content on our blog site
#mesh #freelance #uaefreelance #gigeconomy #mesheconomy #futureofwork #COVID-19 #Corona #Coronavirus #remoteworking #workingfromhome #wellbeing #weareallinthistogether #stayhome #futureofwork #gigeconomy #freelanceeconomy #worktrends #futureready #gigworkers #digitalnomads #humancentered #remoteworking #workforceofthefuture #hrtech #workbetter #worksmart #workculture #remoteworkforce #workplaceofthefuture #CX #CustomerExperience #Trust #Quality #SustainableBusiness